NECKLACE LENGTH GUIDE
Bits of Bali necklaces come in varying lengths, which means you can layer together for a stunning look that's unique and personal to you. Most of our necklaces come with a 2 inches/ 5 cm extender chain to give you the flexibility of styling two or more necklaces together. In some models, we can customize the length of the chains to suit your needs. Please email us if you have any questions or further inquires.
RING SIZE CHART
Tips on ring sizing:
- Our Bits of Bali ring collections use the USA standard.
- Common ring sizes for women are 6 (16.5 mm) and 7 (17.3 mm).
- Finger sizes are affected by temperature and humidity. They shrink half to one size smaller when in cold temperature, and expand half to one size larger when in hot or humid condition. Make sure you measure your finger at a normal body temperature to get the correct size.
- If your knuckle is much larger than your finger's base, take two separate measurements and choose a size in between. It should slides over your knuckle, but also not too loose on the finger's base, otherwise it will shift around.
- If you already own a ring that's the perfect size, measure the inner diameter of this ring and match it to the size in our chart.
- If you are in between sizes, order a larger size. It's always better to have a little extra room than too tight.
- Still unsure? Feel free to email us or stop by our shops when you're in Bali to try on our gorgeous rings in person. We would love to connect with you.

Free repair within a year of purchase

Free delivery within Indonesia

Free Gift Wrapping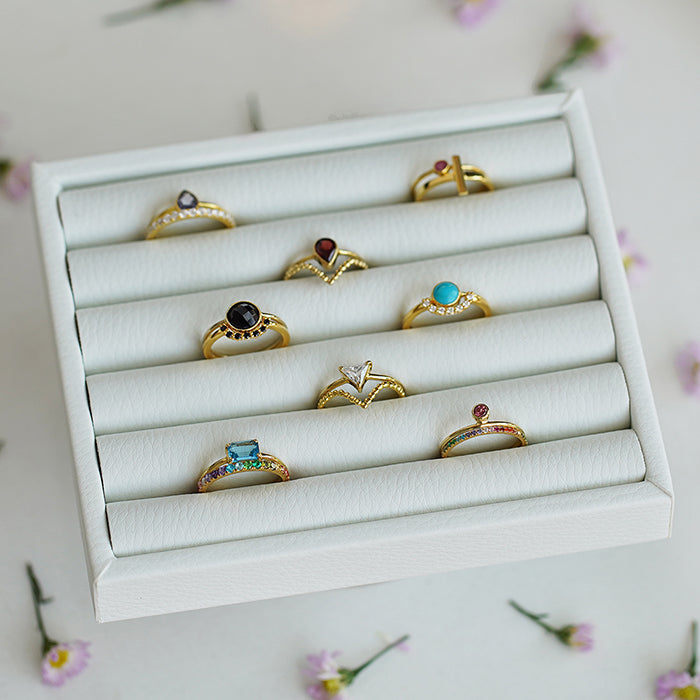 How to Stack Rings #1
This ring is the perfect compliment to the Tara Half Circle or Giri Chevron Dotted rings, which are designed specifically to fit together. It can also be stacked with our Tara Pave 1mm or 2 mm, Giri Thin Plain, Hammered or Twist rings. The versatility of this ring is the exquisite element for a day or night look.
OVAL BLUE SAPPHIRE & 5 DIAMOND RING - SOLID 14K WHITE GOLD